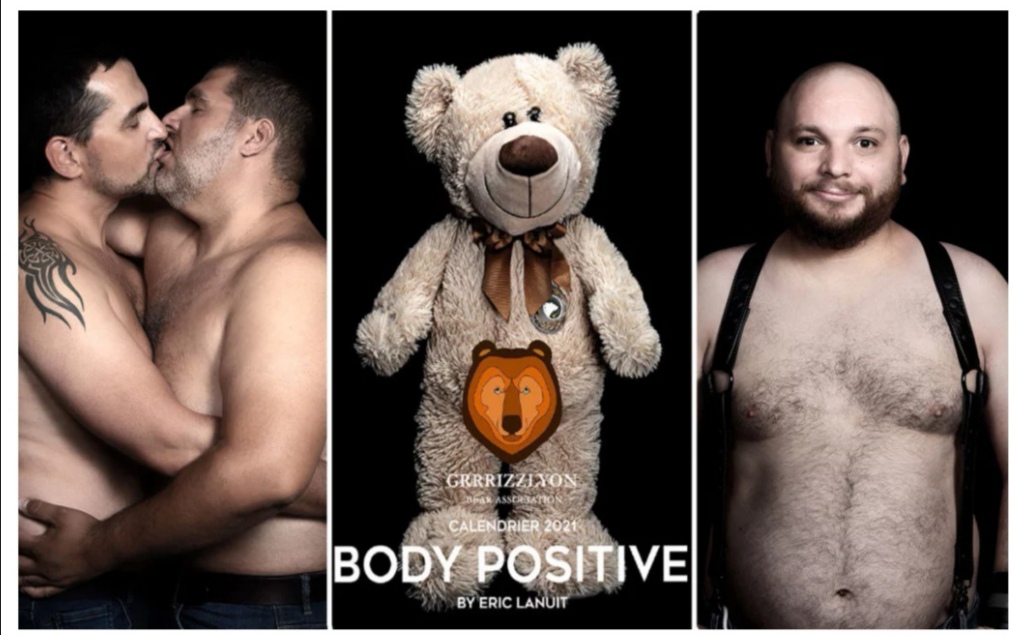 Grrrizzlyon est heureux de vous présenter son premier Calendrier BODY POSITIVE 2021 by Eric LANUIT avec la participation exceptionnelle de Mr Bear Europe 2019, M. Rubber France 2019, Mr. Leather Auvergne Rhône-Alpes 2019, l'intemporel Mr. Otter et les membres de l'association Grrrizzlyon. GrrrizzLyon is pleased to present its first BODY POSITIVE Calendar by Eric LANUIT with the exceptional participation of Mr Bear Europe 2019, Mr Rubber France 2019, Mr. Leather Auvergne Rhône-Alpes 2019, Mr. Otter and members of the grrrizzlyon association.
Vous pouvez le commander en ligne ici. Il est également en vente à la boutique du DogKlub, 12 rue Romarin, Lyon 1er et en commande en ligne sur leur site. You can order it online here.
Nous vous remercions de votre soutien 🙂 Thank you for your support 🙂 
Le body positive est un mouvement social en faveur de l'acceptation et l'appréciation de tous les types de corps humains. La communauté Bear est diverse ! Nous remercions les membres et sympathisant.e.s de l'association ainsi qu'au talentueux Éric Lanuit d'avoir participé à ce calendrier. The positive body is a social movement in favor of the acceptance and appreciation of all types of human bodies.The Bear community is diverse! We thank the members and supporters of the association as well as the talented Eric Lanuit for participating in this calendar.
BE YOURSELF! LOVE YOURSELF !
Merci à nos partenaires: le XS Bar, Crédit Agricole Centre-Est et Eric Lanuit Photographer Thank you